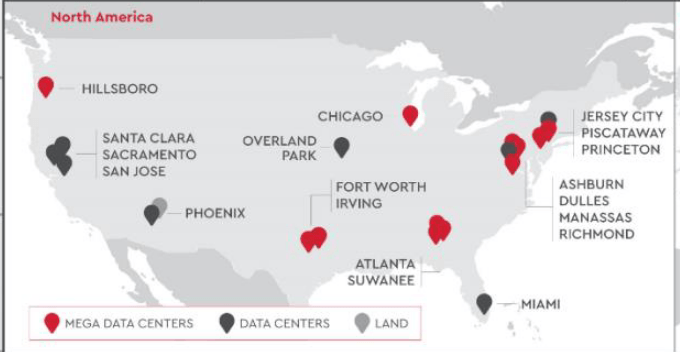 As we've mentioned in our recent articles, data center stocks have been a favored sub-sector of the market since the COVID-19 crash. With so many more people working from home, the demand for connecting digitally is stronger than ever.
QTS Realty Trust (QTS) has outperformed the Real Estate Select Sector SPDR Fund – XLRE, the Technology Select Sector SPDR Fund – XLK, and the S&P 500 over the past month, year, and year to date. It has lagged over the past quarter, but sits at an all-time high.
QTS's data centers are located in 14 of the top US markets: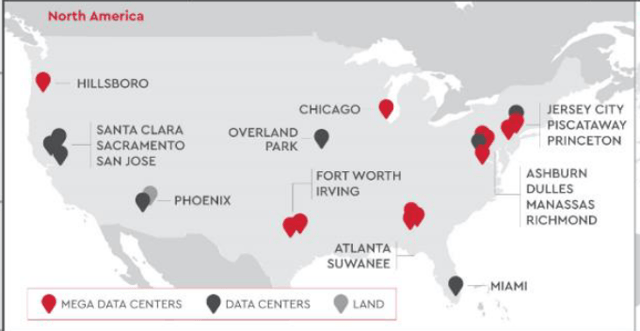 (QTS site)
With 7.2M square feet of space, QTS has 720 acres of expansion capability, which could double its business, without expanding its physical footprint. Its service niche is offering a software-defined platform.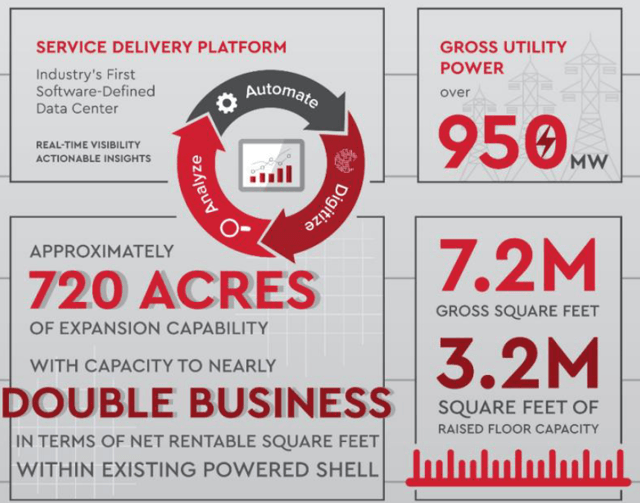 (QTS site)
Earnings:
QTS just reported its Q2 2020 earnings this week. Earnings were up year over year and sequentially for revenue, monthly recurring revenue, net operating income, adjusted EBITDA, and operating FFO.

(QTS site)
Looking back over the past four quarters shows revenue up ~11% and FFO up ~33%, while adjusted EBITDA was down -8.6%.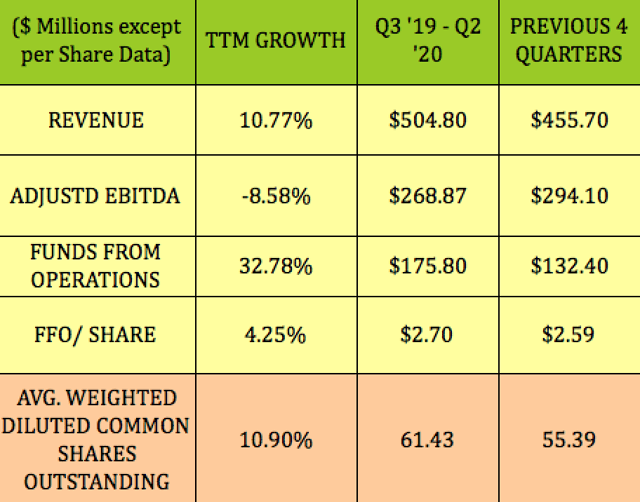 The share count expanded by ~11%, due to QTS' at the market ATM program:

(QTS site)
2020 Guidance Revised Upward:
Management revised its full-year 2020 guidance range for adjusted EBITDA upward, to $280M – $290M, vs. the previous $275M – $285M range. They also revised the low end of FFO/share upward to $2.73, vs. the previous $2.69.

(QTS Q2 2020 10Q)
Preferred Dividends:
QTS has two preferred stocks, the QTS Realty Trust, 7.125% Series A Cumulative Red Perpetual Preferred Stock (QTS.PA), and the QTS Realty Trust, 6.50% Series B Cumulative Convertible Perpetual Preferred Stock (QTS.PB).
Both of these preferreds also have bounced back from the March lows – the A shares are at $27.00, $2.00 over their $25 call value. There's no maturity date for the A shares – their call date is 3/15/2023. They yield 6.6%, and go ex-dividend next in late September.
The B shares are convertible into 2.1264 shares of the common, which equals $151.25, and are currently priced higher than the common conversion.
QTS can force a conversion of these preferreds into the common if the common price exceeds $47.03 by 150%, ($70.54) for 20 of 30 days. The common shares just passed that $70.54 threshold for the first time on 7/29/20.

Financials:
QTS's ROA and ROE are lower than data center averages, while its debt/equity leverage is much lower, and its net debt/trailing EBITDA factor is roughly in line:

Debt and Liquidity:
Management shows a lower net debt/EBITDA ratio of 5.8X, using annualized adjusted EBITDA from the most recent quarter.
They also have another interesting metric, which takes into account the money raised via the company's ATM program, which brings the leverage figure much lower, to 3.7X:

(QTS Q2 2020 10Q)
Their first big maturity isn't until 2023, when the revolving credit facility comes due.

As of 6/30/20, QTS had total available liquidity of $1.1B, comprised of $591M of available proceeds from forward equity sales, $489M of available capacity under the company's unsecured revolving credit facility, and approximately $16M of cash and cash equivalents.
Valuations:
As you can imagine, data center REITs are getting some pretty high valuations in 2020 due to the increased demand for their services. QTS does look a bit cheaper on a price/FFO and EV/EBITDA basis, while its price/book looks a great deal cheaper. Its common yield is in line with industry averages.

Analysts' Price Targets:
Analysts have raised their average price target for QTS by ~5% since mid-June – it's now at $74.50, just 4.5% above QTS's $71.13 price.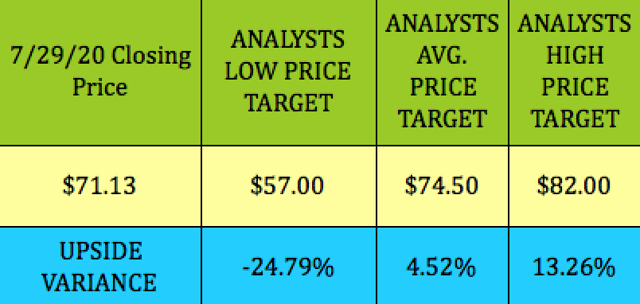 Common Dividend:
At $71.13, QTS yields just 2.64%, with an FFO dividend payout ratio of 67.41% and a five-year dividend growth rate of 8.7%. It should go ex-dividend next in mid September.
Options:
With QTS being so close to its average price target, and at an all-time high, you may want to consider selling covered calls, in order to gain a bit of downside protection.
The September $75.00 call strike pays $1.10 and offers a nominal 2.2% static yield in under two months, or 16.11% annualized. Coincidentally, QTS' Q3 dividend went ex-dividend on the Friday option expiration date in September 2018. They haven't declared yet, so that ex-dividend date could change in the near future.

Conversely, if you missed the uphill ride in the common, but still want a piece of the action, you could consider selling cash secured puts below QTS's price/share.
The December $70.00 put strike pays $4.50, over 4X the $.94 in quarterly dividends over the next two quarters. Your breakeven would be $65.50, which is 12% below analysts average $74.50 price target:

NOTE: Put sellers don't receive dividends. We use annualized yields in our tables so subscribers can compare trades of different lengths. You can see more details for these 2 trades on our Covered Calls Table and our Cash Secured Puts Table.
All tables furnished by DoubleDividendStocks.com, unless otherwise noted.
Our Marketplace service, Hidden Dividend Stocks Plus, focuses on undercovered, undervalued income vehicles, and special high yield situations.
We scour the US and world markets to find solid income opportunities with dividend yields ranging from 5% to 10%-plus, backed by strong earnings.
We publish exclusive articles each week with investing ideas for the HDS+ site that you won't see anywhere else.
We offer a range of income vehicles, many of which are selling below their buyout and redemption values.
Disclosure: I/we have no positions in any stocks mentioned, but may initiate a long position in QTS over the next 72 hours. I wrote this article myself, and it expresses my own opinions. I am not receiving compensation for it (other than from Seeking Alpha). I have no business relationship with any company whose stock is mentioned in this article.
Additional disclosure: We may enter QTS via selling cash secured puts.